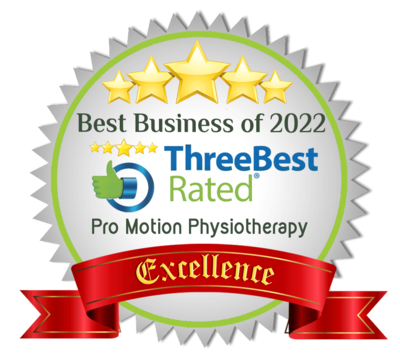 Has An Injury Taken Away Your Active Lifestyle?
People are frustrated and hopeless as they struggle to live everyday with an injury.
Our dedicated team will get you back to living life to the fullest, as fast as possible!
Get Back To Doing What You Love With Pro Motion Physiotherapy!
Experience the secret to your SUCCESSFUL RECOVERY in what we do best everyday. We make people BETTER, we help people 'H.E.A.L.'
wb_sunny
Hope
Experience the hope and joy of being pain free.
directions_bike
Exercise
Rebuild your strength, master exercises, recover faster.
accessibility
Assessment
We determine the "why" behind your pain and create an action plan that works for you.
nature
Life
We help you reclaim your active and pain free lifestyle.
At Pro Motion we understand the pain and frustration that comes with recovering from an injury.
Our team of physiotherapy professionals has decades of experience and is committed to finding the source of your pain and creating an action plan to get you back on your feet.
It is our purpose to help you, our patient, achieve your highest level of pain-free performance. We will do everything within our power and ability to get you back to feeling your best in the least amount of time possible.

Testimonials
What our patients have to say...
"I went in with chronic pain in my knee and back...
and I came out an hour later pain free, assessed for a follow up. The Dr. and staff were very kind and professional."
-SS (Registered HCA)

"An extremely well run office with staff that actually care
about helping you heal, and to do so properly. Highly recommended!" --SF
"Simply the Best! Staff is super nice, friendly and professional.
Jeremy has been working on my injuries for about a year and it really made all the difference--pain control, exercise, advice on managing my post-injury concerns. If you want a pro to use every treatment in existence to find what works for you - this is the place." --YP
See more Google Reviews
We Take You From Pain To Possibility
This Is Our Simple Process

Come And Meet Us
The first step is making an appointment where we can fully assess you and figure out the "why" behind your pain. Create Your Action Plan
We guide you with exercises and education and use a combination of treatment techniques to help you recover quickly...and STAY better!
Surpass Your Goals With Amazing Results
Experience life's possibilities without worrying about pain.
Don't Let Your Pain Stand In The Way Of Reaching Your Goals!
We'd love to get you on the road to recovery. Choose the Team at Pro Motion Physiotherapy today.
Schedule An Appointment